A common hallmark of all of VOX's accomplishments is our long-term commitment to local, international and culturally diverse artists.
VOX acts as an "exhibition producer," which includes all stages of the production chain: we hold regular working meetings with the artist; conduct extensive research aimed at better contextualizing his or her practice; have discussions regarding the selection of the works and their staging; address the multiple challenges posed by the artist; sometimes get involved in the production; pay him or her royalties; expand the connections between artist and audiences. When artists design a project specifically for VOX, we make our technical and human resources available to them so that they can produce the project under optimum conditions. Our relationship is developed over the long term as well because artists who have presented projects can then sit on the artistic committee, directors board or curate a new exhibition. This approach has had the positive impact of creating a local and international community around VOX, which provides for the future development of its activities.
VOX is a non-profit organization and a member of the Regroupement des centres d'artistes autogérés du Québec (RCAAQ) and the Artist-Run Centres and Collectives Conference (ARCA). VOX is co-owner of the 2-22 building.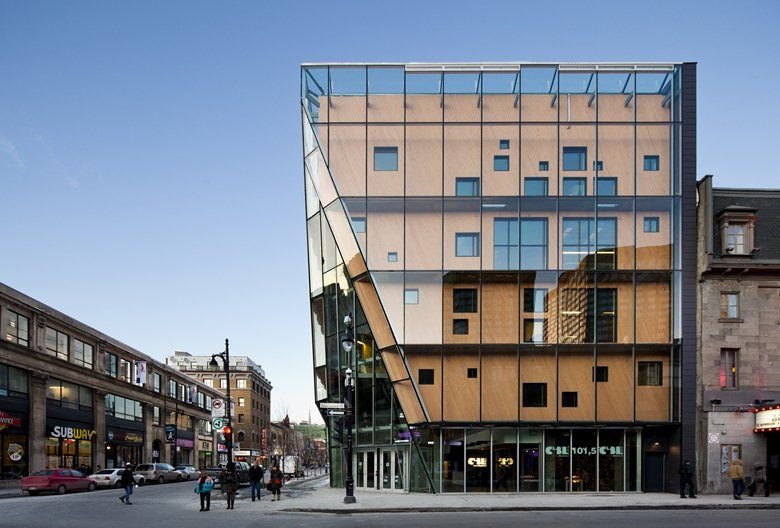 VOX occupies the entire fourth floor of 2-22. This cultural building is located in Montreal's Quartier des spectacles, at the corner of Sainte-Catherine Street and Saint-Laurent Boulevard. It also houses the Vitrine culturelle de Montréal, the francophone community radio station CIBL-FM, the contemporary visual arts documentation center Artexte, Danse Danse and the Regroupement des centers d'artistes autogérés du Québec (RCAAQ). On the first floor there is a space for a bistro and on the top floor, a restaurant-bar. 2-22 is LEED-NC Silver certified.