Mission Statement and History
We recognize that VOX is located on unceded Indigenous lands and the Kanien'kehá:ka Nation are recognized as the custodians of the lands and waters on which we gather. We respect the continued connections with the past, present and future in our ongoing relationships with Indigenous and other peoples within the Tiohtiá:ke/ Montreal community.
Mission Statement
Founded in 1985, VOX's mission is to support research and presentation initiatives around image-making practices from the 1960s to the present day. Its main activity is exhibitions, most often complemented by publications, documentation spaces, film screenings, conferences and online projects. The exhibitions and other artistic events that the centre produces are grounded in long-term work with artists, and often designed as collective projects that encourage discussions and debates about art and contemporary society as well as public meetings with diverse audiences.
VOX is a non-profit organization and a member of the RCAAQ as well as Art actuel 2-22.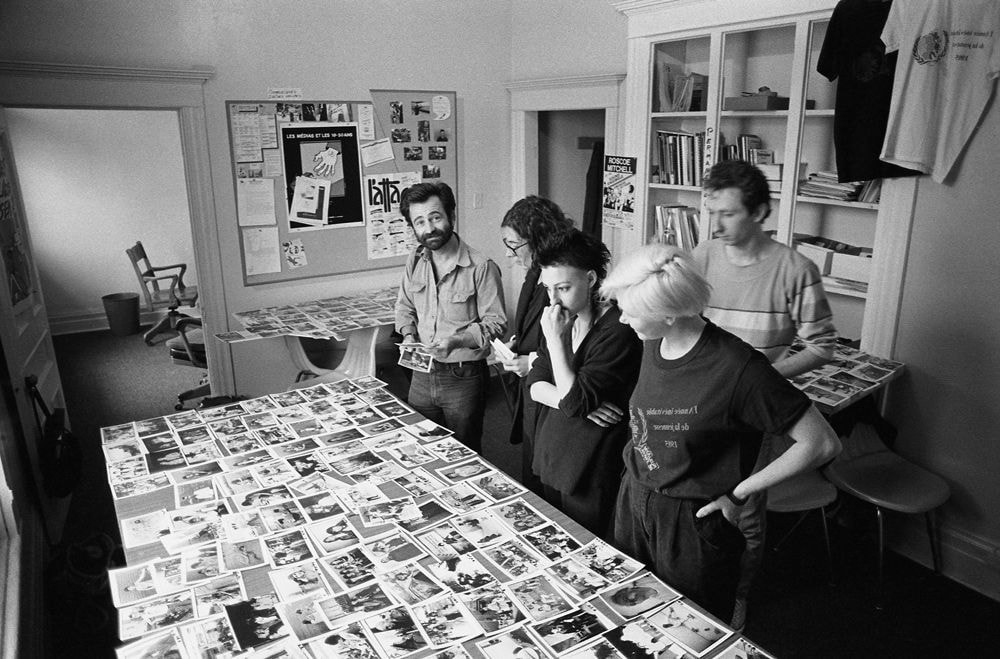 Values
A non-profit organization founded in 1985, VOX makes a significant contribution to the arts through development of coherent, engagé programming; by presenting major projects that contribute to the advancement of research; by committing to long-term projects with its artists; by involving cultural communities of diverse origins, including Indigenous peoples, in its activities; by dispelling contradictions between emerging and established artists; by advocating for a culture of cooperation and knowledge transfer; by making the visual arts accessible via mediation activities; by implementing long-term partnership projects with organizations in Canada and abroad; by taking concrete actions to reduce its environmental footprint; by providing support and guidance to artists in the national and international dissemination of their works; and by choosing to remain close to artists.
History
In the spring of 1985, a group of individuals from the Collectif des jeunes sans emploi de Saint-Louis-du-Parc (an unemployed youth collective) founded Vox Populi with an activist mindset, firmly committed and determined to advance the cause of young people.
—That same year also saw the creation of Atelier VOX, a space for creation and dialogue by the collective's members. Its director and founder was Marcel Blouin.
—Also in 1985, the members of VOX decided to begin publishing the magazine Ciel variable, which collected text and photography.
—The year 1989 would prove decisive for VOX, as it organized the first edition of the Mois de la Photo à Montréal, at the time Canada's only photography biennale.
—In 1989, VOX received the Visual Arts Award from the Conseil des arts de la communauté urbaine de Montréal for its successful presentation of the Mois de la Photo à Montréal.
—In 1990, the organization founded the VOX Information Systems division, as a means of combining emerging new technologies with photography.
—In 1992, the organization opened Galerie VOX, home to exhibitions of contemporary photography.
—In 1995, IMAGO was created, along with Artexte and Vidéographe. The goal was to implement a capital works project and pool the three groups' databases.
—In 1998, the Musée virtuel, an innovative research and dissemination tool bringing together some 3,000 images by about 60 photographers, went online.
—In 1998, Marcel Blouin stepped down as executive director of VOX and was replaced by Pierre Blache.
—In 1999, the centre refined its mandate and became VOX, centre de diffusion de la photographie. In so doing it abandoned its photographic production role to focus on exhibition production.
—It expanded its activities to present exhibitions nationally and internationally, circulating exhibitions in Canada, Europe and Mexico.
—Marie-Josée Jean acted as artistic director and general director of the Mois de la Photo à Montréal from 1998 to 2001.
—In 1999, VOX once again received the Visual Arts Award from the Conseil des arts de la communauté urbaine de Montréal for presenting the Mois de la Photo à Montréal.
—From 2001 to 2003, VOX cemented a partnership with the Bonsecours Market in Old Montréal, which enabled it to operate a large exhibition space and develop international programming.
—En 2002, Marie-Josée Jean became VOX's artistic director.
—In the fall 2002, the Mois de la Photo à Montréal became a separate entity, allowing each organization to focus on expanding its respective fields of activity.
—In 2004, VOX moved its presentation operations to new premises on Saint-Laurent Boulevard and further refined its mandate, becoming a centre for the contemporary image.
—In 2005, VOX created the Fonds documentaire de la photographie québécoise, making works by 126 Québec artists accessible on the Web (in all, some 6,500 images dating from 1950 to 2005).
—The same year, Pierre Blache stepped down, and Marie-Josée Jean became the centre's executive and artistic director.
—In 2011, along with Artexte and the RCAAQ, under the banner Art actuel 2-22 (formerly IMAGO), VOX relocated its operations to the 2-22, a building in downtown Montreal, becoming the owner of the nearly 12,000 sq ft space.
—In 2012, VOX was recognized as a social-economy organization.
—In 2013, Art actuel 2-22 (Artexte, RCAAQ and VOX) was shortlisted for the 28th Grand Prix of the Conseil des arts de Montréal for having provided the city with a new, unifying contemporary art venue.
—In 2016, VOX celebrated its 30th anniversary.
—In 2019, VOX helped create the Collectif d'éditeurs en art contemporain (CÉAC).
—In 2020, the Covid-19 pandemic forces VOX to close twice and disrupts the schedule of its exhibition and education program.
In 2025, VOX will celebrate its 40th anniversary.